Aren't baths the best? We've always thought so.
If you're looking for that next great item to recommend to your customer and have already exhausted sanitizer, lip balm, mints, sweets, stress relievers, polos and pens—we've got the ace for you! You've most likely experienced an e-mail or phone call where your client is adamant you provide them with the next latest and greatest item sure to dazzle.
This next go around, give the gift of relaxation by choosing an item of our Zen line. Zen is our aromatherapy line offering therapeutic grade essential oils extracted from nature. Our mix of proprietary blends and single oils were brought on board to help balance, harmonize, and promote health of body, mind, and spirit to the promo world. This year, SnugZ USA was the first to introduce such an offering of essential oil and blends to our market. Aside from bath salts, we offer an assortment of amber bottles, roller balls, soaps, candles, bath bombs, diffusers, and limited holiday scented candles.
That being said, we recommend our Zen Bath Salts in a Clear Glass Wire Bale Jar, sku NBSWB25. Sooth your customers into zen this holiday with our essential oil infused bath salts bundled in a crafty, eye-catching 2.73 oz. container.  Bathing in an essential oil infused salt bath at home provides the ultimate aromatic, escape from work and life's stresses as salts release their calming properties designed to uplift one's mood and reduce stress.  Our essential oil salts were handcrafted to cleanse and improve health to the body's largest organ—your skin.
Unfamiliar with how to use bath salts? It's simple.
Fill your tub with warm water
Equally disperse half of salts into water
Let dissolve (five minutes)
Dunk in and unwind.
We have seven notable proprietary blends to fill your container with. Pictured below is our Exhale blend made from peppermint, tea tree, eucalyptus and lemon ingredients formulated together to maintain clear airways and breathing, support overall respiratory health, and help minimize effects of seasonal threats.  We use Epson salt for our Zen combinations and the benefits are abundant. Epson consists of magnesium and sulfate mineral compounds which are natural agents that help reduce muscle inflation, increases energy and stamina, produce serotonin, and relax and reduce irritability. [1] Bath salts are a trendy spa item and are a hot commodity in retail. Chances are you've seen these soap and spa displays at your local grocery near checkout and the pharmacy.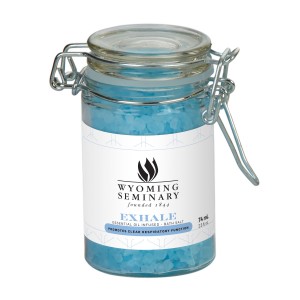 Furthermore, this fun-size beaker offers a diverse amount of uses making it a multipurpose bottle. Its small size capacity, trendy exterior and re-useable ability makes it a versatile item you can refill with kitchen spices, daily prescription, or small purse items. It's no wonder Sales Executive, Janice Freij recommended it. Bath salts are a fantastic fit for hospitals, health clinics, spas, hotels, and assisted living centers. Minimum quantity starts at 50 pieces per order at $4.48 (C ) plus a $45.00 (C ) set up charge. Allow five business days for production time after proof approval.
Janice is a part of our valued Sales Dream Team. She embodies an extensive insight in promotional know how and is in direct contact with customers on a daily basis. She's plays an integral role in representing SnugZ USA in our business traveling expeditions to numerous trade shows and conferences across the country. We're lucky to have her skills and talent on board. Those who have gotten the opportunity to meet and work with Janice can vouch for her colorful personality, skilled competencies, and passion for our industry. If you have any remaining questions, you are always welcome to contact Janice at her direct line at 888-447-6840 ext. 9548 or janice@snugzusa.com.
These statements have not been evaluated by the Food and Drug Administration. This product is not intended to diagnose, treat, cure, or prevent any disease.
---
[1] Epsom Salt Uses & Benefits. (n.d.). Retrieved November 2, 2015, from http://www.saltworks.us/salt_info/epsom-uses-benefits.asp#.VkOnz875Rc8.twitter