Boosting company, team, or individual morale isn't always the easiest task. Employees desire to feel valued and the Holiday Season is a perfect time to recognize every hard fought victory and those who worked diligently all year to ensure your company's success. The SnugZ USA 2017-2018 Gift Collection provides a variety Gift Giving ideas to fit every budget, company, and individual. So bring us your moments, your times, your expectations when the stakes are high or just plain there and together we will build memories worth having.
STOCKING STUFFERS:
If your company is working with a limited budget, there is no need to fret, you still have amazing gift options in our Gift Collection that any employee would love to receive.
New to our stocking stuffers is the "Copperhead Small Wood Puzzle" (TCOPPERHEAD) – It's a wooden puzzle cube featuring your company's logo laser-etched on the front. You will find that it's not only fun to play with, but stimulates your brain's creativity, patience, and also helps develop intelligence. A perfect trinket for someone's desk or office.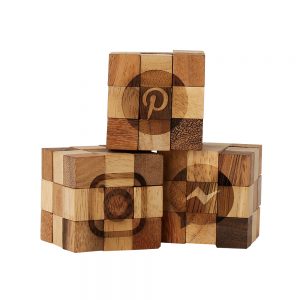 "If you want creative workers, give them time to play." –John Cleese
SweetZ Gift Sets:
Sweet and savory is never a bad route. Give 'em something to snack on with an assortment of SweetZ Gift Sets. "SweetZ Party Pack" (HGS19) comes with two SweetZ filled heat sealed bags in a wooden Gift Box with brown crinkle paper. The best part is the sharing!
"Give the world a reason to dance." – Kid President
ZEN Gift Sets:
Have a little more wiggle room in your gift giving budget? We offer a multitude of high-end gift sets. The "Ultimate Spa Set" (HGS2) provides everything one could possibly need to indulge in a relaxing evening after a long day of work. Essential oil infused apothecary jar candle, bath salts and body butter in a square jar, two 15 mL. essential oil dropper bottles, bath bomb in a wooden Gift Box with brown crinkle paper. Available in 9 different Signature Zen Scents!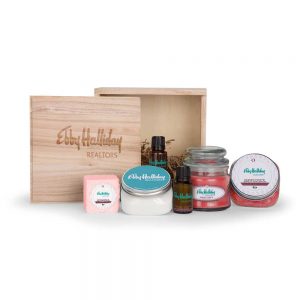 "God gave us the gift of life; it is up to us to give ourselves the gift of living well" – Voltaire
TRAVERSE Gift Sets:
Traverse is new to the SnugZ USA Gift Collection and to the promotional industry. Our Traverse line offers eight different Handcrafted Gift Sets made with nothing but top notch materials. Choose from 5 domestic, USA Made, leather colors and 11 Irish waxed linen accent stitching colors to create something truly unique. Customize to match your company logo! Simple leather goods crafted with a long lasting promotion in mind. A high quality gift for high quality workers, making it the ultimate thank you.
"You can give without loving, but you cannot love without giving." – Amy Charmichael
Express to your employees that they add something to the company that no one else can, and are valued beyond measure. Not only will they remember the gift by enjoying what's inside the box, but the feeling they felt for being recognized by you.
Download the 2017-2018 Gift Collection Catalog here, and #GIFTSOME!