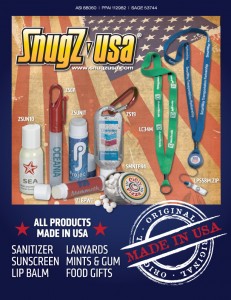 Here at SnugZ, we're not quite sure if its baseball, hot dogs, fireworks, or that classic red, white and blue, but something about July makes us a little extra patriotic.
What else is patriotic? Buying products that are made right here in the good old U.S of A!
SnugZ is always bringing you the highest quality products made in the USA from hand crafted sunscreen, lip balms to sanitizers and mints.
There are also many other benefits to buying USA produced products including high speed production, US regulated labor conditions, health benefits, safety regulations and knowing that your dollars are being recycled through our economy, creating more local jobs for Americans. Pretty great, right?
We are proud to say that we only use the highest quality of ingredients, made in an FDA registered facility which allows customers to buy with greater confidence in the safety of our products. All our sunscreen products comply with all the new BROAD SPECTRUM sunscreen laws and we are QCA compliant.
So grab a cold one, fire up the grill and represent your love for the stars and stripes with your favorite all American SnugZ products!